"Logan Day" in Murphysboro
Major General John A. Logan was born in Murphysboro, Illinois in 1826. He would go on to becomethe co-founder and first commander-in-chief of the Grand Army of the Republic (GAR), a US representative, US Senator, and General Ulysses S. Grant's "favorite officer."
Every year in Murphysboro, Illinois, a celebration is held honoring General Logan and his contributions to the Civil War and the holiday we now know as Memorial Day. Known by many as the "founder of Memorial Day," Logan didn't actually come up with the idea; what he did was put it down on paper.  
From a Southern Illinoisan article about Logan and Memorial Day:
"What Logan did was issue General Order No. 11 while he was Commander in Chief of the Grand Army of the Republic. General Order No. 11, in part, states, 'The 30th day of May, 1868, is designated for the purpose of strewing with flowers or otherwise decorating the graves of comrades who died in defense of their country during the late rebellion, and whose bodies now lie in almost every city, village, and hamlet churchyard in the land. In this observance, no form or ceremony is prescribed, but posts and comrades will in their own way arrange such fitting services and testimonials of respect as circumstances may permit.' The order essentially established Memorial Day as a national holiday." 
Murphysboro began celebrating Logan with his own holiday in 1914. In 2014, the Logan Day centennial celebration featured the dedications of six historical markers around the town square and two street names being restored to their original designations, memorializing Logan and various aspects of his life.
Learn more about Jackson County history and see hundreds of beautiful, historic photos like these in the Southern Illinoisan book, Jackson County Memories: The Early Years.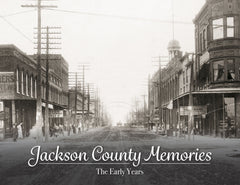 The Southern Illinoisan presents
Jackson County Memories: The Early Years
$44.95