Hotel Champlain: A Great Getaway for Famous Figures
Overlooking Lake Champlain, the Hotel Champlain, built by the D & H Railroad was lauded as a therapeutic vacation destination in the North Country. Marketing for the hotel touted the scenic drive along the lake and the curative effects of the fresh air and water.
Famous visitors over the years included Presidents William McKinley, William Taft and Franklin D. Roosevelt; silent film actress Marion Davies; and baseball star Babe Ruth. President McKinley even made the Hotel Champlain his Summer White House in 1897 and 1899.
In the 1920s, the Hotel Champlain was a filming location for Janice Meredith, a Revolutionary War film staring Davies.
Experience the early years of Clinton County through even more stunning and historic photographs in Clinton County Memories.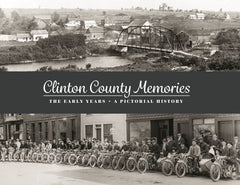 Press-Republican presents
Clinton County Memories: The Early Years
$44.95