Hollingshead Photography in Woodland
As you look through the pages of Woodland Memories: The Early Years, you may notice that many of the photos were taken by Paul W. Hollingshead. Who was the man behind the camera? 
Paul W. Hollingshead grew up in a farming family in Wyoming. He had dreams of being a photographer, but it would be many years before they came to fruition. 
He enlisted in World War I, then worked as a blacksmith for several years before he was finally able to raise enough money to enroll in the New York Institute of Photography, where he began to hone his craft and met his mentor, Edward Steichen.  
Hollingshead, along with his new wife Vera, moved to Woodland in 1932, where he cornered the photography market as the only all-around portrait and commercial photographer in Yolo County. He raised a family in Woodland and operated the Hollingshead Studio there until 1969. In 2014 Hollingshead was inducted into the New York Institute of Photography Alumni Hall of Fame. 
Get a glimpse at Woodland history and see more beautiful, historic photos in The Daily Democrat's new book, Woodland Memories: The Early Years.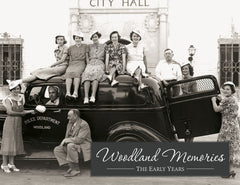 Daily Democrat presents
Woodland Memories: The Early Years
$44.95