Henry Weinhard: An Icon of Oregon Beer
Henry Weinhard is known as one of the oldest and most iconic brewers of Portland, OR. Originally from Germany, Weinhard moved to America at the age of 21, eventually making his way to the Pacific Northwest when he was 26. Weinhard worked under John Meney, a brewer in Washington, until eventually buying the brewery from Meney and running it for about 4 years. 
In 1862, Weinhard bought out the Henry Saxer Brewery in partnership with George Bottler. He bought out Bottler's share of the business in 1866. Weinhard also bought the Liberty Brewery (then City Brewery), Portland's oldest brewery and the largest in the Pacific Northwest by 1890, producing more than 40,000 barrels in 1889 from just under 2,000 in 1870. For its dedication in 1887, Weinhard offered to pump beer through the Skidmore Fountain, which unfortunately the city declined, but any beer drinker can appreciate Henry Weinhard's attempt to share good beer with everyone.
In 1904, Weinhard passed away, leaving his legacy in the hands of his two sons. During the prohibition, the brewery survived by producing premium sodas, syrups, and non-alcoholic beers. The old City Brewey remained family-owned until Henry's great-grandsons sold the brewery to Pabst in 1979. 
Get a closer look into Portland's history and see hundreds more historic photos like these in The Oregonian/OregonLive's new book, Portland Memories.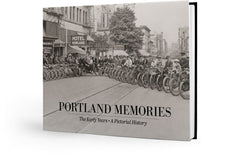 The Oregonian and OregonLive presents
Portland Memories: The Early Years
$35.95 $44.95