Hansen's Hundred Individual Highlight: World War II Veterans
Apart from being stellar in the arena of their particular sport, a good number of Greg Hansen's Hundred are also outstanding in another way: They are veterans who served their country in World War II. Excerpts and photos from Hansen's Hundred: Tucson's Top Sports Figures of the Last 100 Years give some insight into the lives of these great Tucsonans.
No. 82, Ed Undergraff
Updegraff, the No. 82 selection in our list of Tucson's Top 100 Sports Figures of the last 100 years, missed the cut at the Masters that year, shooting 74-77, a legendary event in which Palmer defeated Player and Dow Finsterwald in a memorable playoff. Updegraff's golf game was so sound that he played in five more Masters, all as an amateur. But he was never fully tempted to leave his medical practice as a urologist to turn professional. Thus, the man who won a record 12 Tucson city championships, five Arizona Amateurs and played on the U.S. Walker Cup teams of 1963, 1965 and 1969 — berths which were his ticket to the Masters — spent his golf career known as Tucson's "Dr. Ed" more than anything else.
Updegraff graduated from the University of Iowa medical school in the early 1940s but had no time to contemplate turning pro. He was inducted into the Navy and assigned to a Naval Hospital in Florida. At the conclusion of the war, he began preparations to open his own medical practice. He thought about the opportunity to play golf year-round in Arizona — as a child, he accompanied his parents on a visit to Tucson and saw people playing golf in the winter — and subsequently moved here in 1951.
Updegraff entered the 1951 Tucson City championships for the first time. He led by nine strokes after 36 holes and won easily. It wasn't long that the golfers at Tucson's three courses — El Rio, Randolph and the TCC — were talking about Dr. Ed.
He twice finished fourth in the PGA Tour's Tucson Open, 1962 and 1969, all while he maintained a full-time urology clinic in Tucson, playing golf about two or three times a week. "I love to play golf," he told me three years ago at the Saddlebrooke complex, "but I wasn't a pro. I would've lost my appreciation of the game, and it would've taken all the fun out of it for me. My medical practice was different — there was a new challenge every day."
In 1999, Updegraff was selected as recipient of the annual Bobby Jones Award by the USGA, considered the top off-course honor in golf. It was an award previously presented to Nicklaus, Palmer, Hogan and Nancy Lopez.
No. 73, Bud Grainger
Grainger, an all-state second baseman at Tucson High School in 1941, umpired 192 Arizona-ASU baseball games across his career. That means there were, minimum, 192 either-or calls in those games, maybe 500. It means that every UA and ASU coach, from Frank Sancet and Bobby Winkles to Jerry Kindall and Brock, blew off some in-your-face steam, unhappy with one of Grainger's calls. And yet when Grainger retired, they hated to see him go.
John H. "Bud" Grainger grew up on what he told me were "the wrong side of the tracks" in Tucson in the 1930s, a "baseball nut for life" with his two best boyhood friends, Corky Moore and Frank Kempf, who both became all-state players at THS during a period when the Badgers won eight consecutive state titles, 1939–46. After the '41 state championship, Grainger turned down a scholarship offer from Arizona to accept a $75-a-month salary from the Brooklyn Dodgers. Grainger was sent to the Class D Olean Oilers in New York where he hit .194. The good part: He met his wife, Betty. They returned to Tucson intent on starting a family and getting into the banking business. 
But World War II changed those plans. Grainger became a Marine and spent 29 months overseas. Sadly, his boyhood baseball friends, Moore and Kempf, were killed in action. Moore was killed at Iwo Jima; Kempf was killed by a Germanartillery shell shortly after D-Day. Once he returned to Tucson and got settled, Grainger indeed became a banker and raised a family. He survived a triplebypass heart surgery but still umpired until he was 78. He influenced Tucson's baseball community like few in history.
No. 63, Alex Kellner
Alex Kellner was the youngest professional athlete in Tucson history, signing with the Class D Tucson Cowboys of the Arizona- Texas League the day he graduated from Amphitheater High School in 1941. He was 16.
No one else on the team was younger than 20. Kellner went 11-7. He was on track for the major leagues before he was old enough to vote. But he was old enough to be drafted into World War II, enlisting in the Navy in the spring of 1943, which paused his pitching career for four seasons. Kellner, who is No. 63 on our list of the Top 100 Tucson Sports Figures of the last 100 years, returned from World War II and pitched for the semi-pro Azteca Warriors.
By July 1949, Kellner was selected to the American League team for the All-Star Game, on the same roster with Joe DiMaggio and Ted Williams. He went 20-12 for the A's that season, a rising star, the first Tucson-raised ballplayer to make an impact in pro sports.
Other than winning his 20th game on the last weekend of the 1949 season, the top moment in Kellner's career probably came during a pennant race victory over the Yankees that season. An overflow crowd of 34,355 squeezed into the A's Shibe Park to watch the game. Another 13,000 were turned away at the gate. Kellner beat the Yankees with a five-hitter, striking out DiMaggio to end the game. In his post-baseball days, Kellner worked for Sundt Construction, helped sustain the family farm/ranch near the Rillito wash and was a hunting guide.
No. 49, Dell Ulrich
The Randolph Golf Course was an all-dirt, 18-hole course in 1933. The greens had a foundation of cottonseed, topped by oil and sand. That's when 22-year-old Delbert Marion Urich drove a rickety Model T Ford from San Diego, a journey that took three days, intent on becoming the first full-time golf pro in Tucson. For the next six decades — taking a two year leave of absence to serve in World War II — Dell Urich became the face of Tucson golf. 
A sweet-natured man who taught every conceivable level of golfer, from rank beginner to five-time LPGA Tour champion Cindy Rarick of Sahuaro High School, Urich witnessed such growth that the Randolph Golf Complex ultimately became home to eight PGA Tour and 24 LPGA Tour events. Urich, No. 49 on our list of Tucson's Top 100 Sports Figures of the last 100 years, was one of the true pioneers in Tucson sports history.
In 1936, grass was grown at the Randolph course, part of America's massive WPA project — president Franklin D. Roosevelt's Works Program Administration. Urich began a junior golf program (at no charge). By 1940, the junior golf program had 160 golfers.
Golf in Tucson grew swiftly after World War II. Urich began making drawings of a new 18 holes, modeling the proposed greens out of clay. By 1958, the city council approved a new course, calling it Randolph South. It opened in December 1959. In the 1980s and 1990s Golf magazine published figures that Tucson's first 36-hole golf complex, created in part by Dell Urich, was America's second-busiest golf facility, with more than 100,000 rounds per year.
No. 18, Fred W. Enke
For years, the most mispronounced word in Tucson sports has been Enke. It's INK. It's not INK-E.
And remember this: The most famous father-son combination in Tucson sports history is often misidentified as Fred Enke Sr. and Fred Enke Jr. Fred August Enke, who grew up in Minnesota and became Arizona's basketball coach in 1925, was affectionately known as "Pappy" to his only child, Fred William Enke, who played on football, baseball and basketball state championship teams at Tucson High School and became an NFL quarterback for the Detroit Lions and Baltimore Colts. Both were inducted into the UA Sports Hall of Fame's inaugural class, 1976.
Fred A. Enke coached Arizona's basketball team for 31 years and was the first to coach the Wildcats, in any sport, to the Top 25. From 1945 to 1951, the Wildcats won six consecutive Border Conference championships and reached a level of prominence unheard of in Tucson sports, reaching the 1945 and 1950 NIT — then a more prestigious tournament than the NCAA. In 1951, Arizona played in its first NCAA Tournament, a period in which Enke coached the Wildcats to 81 consecutive wins at Bear Down Gym. 
Fred A. Enke had been a Big Ten football standout at Minnesota, but his son, Fred W., took it a step further. At Tucson High, Fred W. was the 1941 and 1942 all-state quarterback and the state's Player of the Year. He was an All-State basketball player in 1943 and, combined, played on seven state title teams as a Badger. 
After three years as a Naval Aviator in World War II, Fred W. returned to his dad's school, was a three-sport letterman and led the NCAA in total offense in 1948. With a year of eligibility remaining, he signed with the Detroit Lions for a $12,500 bonus. Enke was represented by his basketball teammate Mo Udall, who would run for president of the United States in 1976. 
Fred A. Enke died in 1985. He was 88. Fred W. Enke became a successful businessman in his post-athletic days, developing a cotton farm in the Maricopa area that he sold to the UA Agricultural School for an estimated $5.5 million about 40 years ago.
These and dozens of other photos from Tucson sports history can be seen in this limited-edition book, a perfect holiday gift for your loved ones. Click the link below to purchase!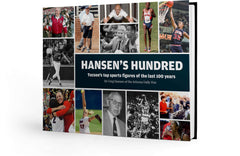 Arizona Daily Star presents
Hansen's Hundred: Tucson's Top Sports Figures of the Last 100 Years
$29.95 $39.95