Greater Joplin Through Our Eyes Cover Announced
We are proud to announce the final cover for the upcoming Greater Joplin Through Our Eyes pictorial history book, as seen below.
This hardcover book is the perfect holiday gift for your loved ones across the Joplin area. Pre-order today to save big!
Depicted on the front cover are historic Joplin Globe front pages and a group of Joplin News-Herald newsboys, circa 1890 (images courtesy The Joplin Globe). What a fantastic cover for this unique hardcover book!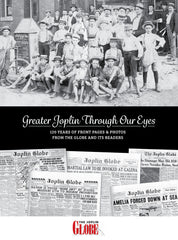 The Joplin Globe presents
Greater Joplin Through Our Eyes: 120 Years of Front Pages & Photos from the Globe and its Readers
$39.95