Fred Beell: Championship Wrestler and Marshfield's Only Fallen Officer
The Hub City Times is proud to announce a beautiful, hardcover historic retrospective of Marshfield, "Marshfield Memories: The Early Years." This heirloom quality coffee-table book features the memories of Marshfield from the late 1800s through 1939 in historic photographs. Click the link above or "More info" at the bottom of this page for more information.
--
Every year on May 15 fallen officers are honored and remembered across the country. To this day in 2016, only one police officer is honored in Marshfield, Wisconsin. His name is Fred Beell, and since his death in 1933 he has been the only officer in Marshfield to be killed in the line of duty. 
Fred Beell was born in Germany in 1876 and became a resident of Marshfield when he was three. He served his new country in the Spanish-American War, after which he became a wrestler. He won championships in several divisions before gaining national attention by dethroning Frank Gotch, the world's heavyweight champion.
Beell retired from wrestling in 1919 and went on to pursue a career as a police officer.  
Fatally shot while investigating a burglary at the Marshfield Brewery on August 5th, 1933, Beell is honored every year during National Police Week and has been posthumously bestowed various honors and accolades through the years. In 1941, the new football stadium in Marshfield was named in his honor; in 1972, Beell was inducted into the Wisconsin Athletic Hall of Fame; in 1997, his name was placed on the Wisconsin Law Enforcement Memorial in Madison, Wisconsin.
In 2012, at the Marshfield Police department's annual memorial, they presented the Fred Beell Service Award—given to officers who have served Marshfield for a quarter century, and honored Beell's partner George Fyksen who served the city for nearly 30 years. 
Get a glimpse of Marshfield history and see hundreds of other historic photos in the Hub City Times' new book, Marshfield Memories.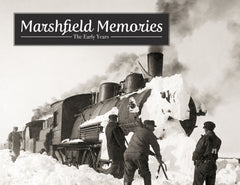 HUB City Times presents
Marshfield Memories: The Early Years
$39.95