Fireman's Muster in Salem
The tradition of holding a fireman's muster in the summertime began in Bath, Maine, on July 4th, 1849. It spread across the east coast and then the country, becoming one of the first organized sports.  For those unfamiliar with the event, a muster is a competition in which several teams of firemen use a hand-pumped fire engine, or "handtub", to shoot water the farthest distance that they can. When the sport first came about there were varying rules depending on the locale of the event, but within a year a strict set of rules had been established by the newly formed New England States Veteran Fireman's League in Boston. 
According to a website dedicated to antique handtubs: 
Each handtub has fifteen minutes to do as many streams as they want, any stream shot over the fifteen minutes limit is disqualified. The longest stream over 100' is their official score. To measure a stream, paper with footage markers along each side, is rolled out starting at 100' and extending to 290'. Water drops are measured to the nearest foot then a yardstick, up to the furthest drop of water with the diameter of a dime, is used for exact measurement.
In 1894 the "White Angel" handtub was built by the American Fire Engine Company in New York for the Salem, Massachusetts, Veteran Firemen's Association. "The engine was expressly built for muster competition and was one of only a few such engines to carry that distinction. Because of engines such as the 'White Angel' the New England States Veteran Fireman's League adopted a rule limiting competition to engines built prior to January 1, 1896." 
The name "White Angel" is cause for debate among historians in the know. Some claim this was simply a nickname borne from the color of the handtub, that the firemen looked upon it as an angel entering the city. Others think that it may be the name of a different fire truck that originally held the name, or perhaps an old shipping vessel. In any case the handtub was indeed an angel for the firemen of Salem. Only seventeen days after delivery, the "White Angel" brought them to victory in Essex, and would go on to win over $10,000 in the approximate 160 musters attended.  
One muster that was sadly lost by the Salem firemen was the home field competition at the Salem Tercentenary in 1926. This competition ended up being won by the handtub "Vixen" from Lowell, Massachusetts, another engine built specifically for muster competitions. 
Learn more about Salem history and see hundreds if beautiful, historic photos in the Salem News' new book, Salem Memories: Volume II.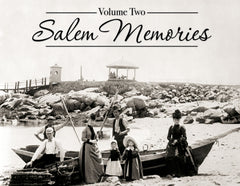 The Salem News presents
Salem Memories: Volume Two
$31.95 $39.95