Final cover announced for softcover book commemorating the Las Vegas Aces and their consecutive WNBA championships
The final cover has been selected for our upcoming softcover book, DOUBLE DOWN: How the Las Vegas Aces Won Back-to-Back Championships and Became the Greatest WNBA Team in History.
The Las Vegas Aces are WNBA champions for the second year in a row! This 80-page softcover collector's book recaps their previous championship and includes the 2023 championship run. Experience exhilarating games, triumphant victories and standout players as the Aces clinched back-to-back WNBA championships. 
Filled with captivating stories and action-packed photos from the award-winning journalists of the Las Vegas Review-Journal, this book lets you relive the Aces' most thrilling moments. It's the perfect way to commemorate this historic season. Don't miss your chance to own a piece of Las Vegas Aces history. Order your copy today and keep the magic of this spectacular season alive forever!
This limited-edition book is the perfect holiday gift for your loved ones. Click the link below to purchase!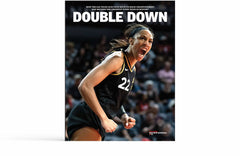 Las Vegas Review-Journal presents
DOUBLE DOWN: How the Las Vegas Aces Won Back-to-Back Championships and Became the Greatest WNBA Team in History
$15.95 $19.95