Final cover announced for book celebrating the Denver Nuggets' first NBA championship
The final cover has been selected for our upcoming hardcover book, Gold Standard: How the Denver Nuggets Won Their First NBA Championship.
Filled with captivating stories and action-packed photos from the award-winning journalists of The Denver Post, this book lets you relive the season's most thrilling moments. Experience exhilarating games, triumphant victories, and the unforgettable moment the Nuggets clinched their first-ever NBA Championship.
This limited-edition book is the perfect holiday gift for your loved ones. Click the link below to purchase!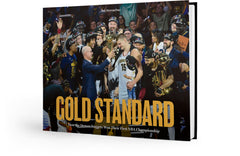 The Denver Post presents
Gold Standard: How the Denver Nuggets Won Their First NBA Championship
$39.95