Early Football Teams of Vallejo
Borne out of soccer and rugby on university fields between New Jersey and Connecticut in the 1870s and '80s, early American football was perhaps the most brutal game imaginable in a modern setting. Its dangerous hits resulted in the deaths of dozens of collegiate players each season, and the violent action simultaneously enraptured and disgusted the public. Attendance began matching that of baseball, the national pastime and most popular sport of the day, but football also drew public outrage and was in danger of being abolished.
President Theodore Roosevelt is often credited for saving the sport. Beginning around 1905, the president began lobbying for changes in the game he loved. He invited team leaders of Princeton, Yale, and Harvard to the White House to discuss making the sport safer, but to little effect. The next season, with the sport in serious jeopardy as major colleges began dissolving their teams, Roosevelt publicly implored football's leaders to enact major rule changes, resulting in an intercollegiate conference that later became the NCAA.
Football rebounded and grew in popularity in the early 1900s, and began more closely resembling the sport we know today with the organization of the NFL in the early 1920s. 
These and hundreds of other classic Vallejo images can be found in the Times-Herald's new book, Vallejo Memories!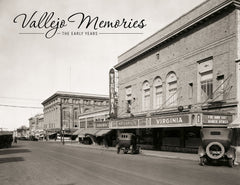 Times Herald presents
Vallejo Memories: The Early Years
$44.95