Denton Memories II Photo Highlight: Bank Robbery in Krum
This photo, from the upcoming Denton Memories II: The 1940s, 1950s and 1960s, shows robbery suspect Charles Roy McCrory being brought in front of Farmers and Merchants bank employees Mrs. Hilliard (left) and Margaret Schluter for identification on March 19, 1959. McRory had walked away from the bank in Krum shortly before with over two thousand dollars that he had stolen. 
The WBAP-TV/NBC station in Fort Worth provides film coverage of the identification process, as well as the scene in Krum when the thief was escorted back into the bank. You can watch the footage by clicking HERE.
From the WBAP-TV/NBC news segment transcript about the incident: "The cash drawer at the Farmers and Merchants bank in Krum is all but empty after a youthful bandit robbed the cashier, Mrs. Ruth Hilliard, just before noon today. The robber, holding 'something in his hand', gave Mrs. Hilliard a note demanding the five, ten, and twenty dollar bills in the drawer. The woman handed him two thousand, 45 dollars and he walked from bank, then drove away in a pickup truck.
The youth first approached the teller, Margaret Schluter, and talked of opening a saving account. She referred him to Mrs. Hilliard. The women were alone in the bank as President A. H. Knox Jr. was out to lunch.
An hour later, in Grapevine, State Police Officer Claude Hogue arrests 19-year-old Charles Roy McRory, who lives on a farm near Boyd with his parents. The youth offers no resistance when the officer arrested him at a service station where he was buying gasoline. From the dark blue pickup, officers find the loot from the robbery, and the note which McRory showed Mrs. Hilliard. The officers find a number of the youth's personal effects, but they find no firearms in the vehicle.
Hogue accompanies state and federal officers as they take the suspect back to the scene of the robbery at Krum. Less than two hours after the robbery, the suspect is back in Krum. Most of the population of that small Denton County town, a few miles northwest of Denton, is on the main street as officers take the manacled youth from the police car and escort him into the bank.
Young McRory freely admits robbing the bank. He says he drove around most of the night getting up the nerve to pull the holdup. He says he needed the money to pay for a tractor which was recently repossessed. Taken before Mrs. Hilliard and Miss Schluter, McRory is positively identified as the bandit. The youth says he was heading for Fort Worth 'to pay some debts' when he pulled into the Grapevine filling station and was arrested by Officer Hogue."
See hundreds more beautiful historical photos from around Denton County in Denton Memories II: The 1940s, 1950s and 1960s. Click the link below to purchase!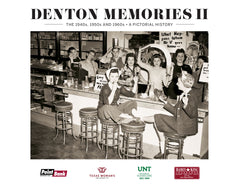 Denton Record Chronicle presents
Denton Memories II: The 1940s, 1950s and 1960s
$29.95 $44.95