Cruising the Streets of Modesto
The mid-1940s began a time known as the "Graffiti Era" in Modesto. An era when modifications to cars, racing, and cruising the streets were popular activities among the youth in Modesto. With all the city had to offer to the growing custom car scene, it got people from all around the United States to join in and even helped inspire movies like "American Graffiti" by George Lucas in the '70s. Still today you can find a parade dedicated to the Graffiti Era where people show off their cars.
Find more photos from the Graffiti Era in the Modesto Bee's new hardcover pictorial history book Modesto Memories II.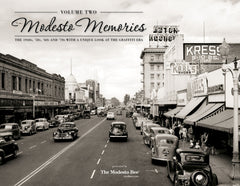 The Modesto Bee presents
Volume Two: Modesto Memories: The 1940s, '50s, '60s and '70s with a Unique Look at the Graffiti Era
$29.95