Cover Announced - War & Peace: Iconic Images of Detroit's Past
The final cover has been selected for our upcoming hardcover book, War & Peace: Iconic Images of Detroit's Past: The 1940s and 1950s Through the Lens of The Detroit News. 
This pictorial history is a look into life in the Motor City both during the second world war and the years following. 
Within these pages you will see the Arsenal of Democracy at work, providing the US military with the cars, tanks, and planes they needed to win the war. You will see new highways being built, people crowding the streets downtown, a city bustling with life as it reaches its peak population. Cars, trains, planes, boats, and buses being used for commerce and for leisure. You will see people picketing and striking, fighting to establish unions in their industry.
Looking within and without of department stores, markets, and early shopping malls, we are given a glimpse into the necessities of the day and a shift in commerce just starting to occur. The youth of Detroit, some smiling and some straight-faced, can be seen learning, relaxing, volunteering, working, and more than occasionally at play. Many pages are filled with people serving their community. They fought fires, dealt with racial injustice, volunteered when the country was faced with a war, and again when it faced the battle with polio.
Family and friends are pictured coming together, whether it be at a Tigers, Bears, or Redwings game, watching a downtown parade, sliding a toboggan at Rouge Park, or enjoying a ride at Edgewater Park.
As a pictorial history, this book provides a snapshot (well, many snapshots) of life, a glimpse into the day to day experiences of those who lived in Detroit while the cultural landscape was beginning to shift once again.
This limited-edition book is the perfect holiday gift for your loved ones. Click the link below to purchase!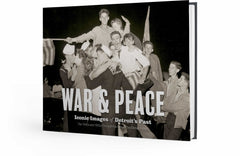 The Detroit News presents
War & Peace: Iconic Images of Detroit's Past: The 1940s and 1950s Through the Lens of The Detroit News
$44.95