Cover Announced: Southern 500
The final cover has been selected for our upcoming hardcover book, Southern 500: 70 Years of Thrills and Chills, Drama and Dents at Darlington Raceway.
The cover image, courtesy of ISC Archives via Getty Images, depicts cars roaring around Darlington Raceway as the sun sets during the 2006 Dodge Charger 500 on May 13, 2006. 
This limited-edition book is the perfect holiday gift for your loved ones. Click HERE to purchase early and save!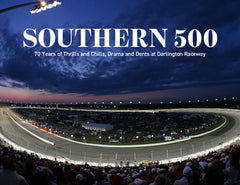 Florence Morning News presents
Southern 500: 70 Years of Thrills and Chills, Drama and Dents at Darlington Raceway
$39.95