Cover Announced: Waco Landmarks
The final cover has been selected for our upcoming hardcover book, Waco Landmarks.  
This final cover image features the Waco Suspension Bridge, a feat of frontier engineering when it opened in 1870, a year when Waco's population was only about 3,600. Its construction took 3 million bricks and steel cables from New Jersey hauled over a dirt road from the nearest railhead in Bryan, more than 80 miles away. Joseph Warren Speight and other civic leaders formed the Waco Bridge Co. in 1866 and sold stock to finance the 475-foot-long toll bridge. It became a key crossing of the Brazos River and cemented Waco's future as a transportation hub. The Waco Suspension Bridge became a free bridge in 1889 when it became city property, and the city did a major renovation in 1914. It carried traffic until 1971 and has since served as a pedestrian bridge and icon of Waco. A $5.5 million renovation set to start in late 2019 will replace decking and cables and reinforce the anchor houses.
This limited-edition book is the perfect holiday gift for your loved ones. Click HERE to purchase!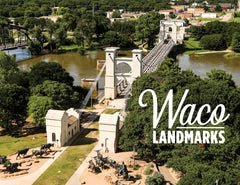 Waco Tribune-Herald presents
Waco Landmarks
$39.95