Cover announced for new book exploring Siouxland disasters
The final cover has been selected for our upcoming hardcover book, The Test of Times: When Siouxland Answered the Call.
The cover image at left shows the Ruff Building at Fourth and Douglas streets collapsing on June 29, 1918. 
At center, a thank you message on a large levee protecting residences is the backdrop for the pavilion near Bev's On the River surrounded by Missouri River floodwaters on June 9, 2011.
The image on the right is of Iowa Air National Guard Lt. Col. Dennis Nielsen carrying 3-year-old Spencer Bailey from the wreckage of United Airlines flight 232 at Sioux Gateway Airport, July 19, 1989.
When natural disaster strikes America's heartland, people respond with love for their neighbor and pride in their community.
The Sioux City Journal presents a new hardcover book that documents the disasters that have hit our region throughout history, and our community's indomitable spirit to rebuild. Full of dynamic photos of floods, fires, tornadoes, and more, this historic retrospective is an inspiration for generations to come.
This limited-edition book is the perfect holiday gift for your loved ones. Click the link below to purchase!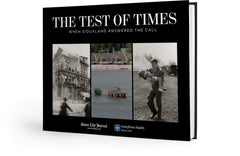 Sioux City Journal presents
The Test of Times: When Siouxland Answered the Call
$44.95