Cover Announced for Iconic Images of Detroit's Past
The final cover has been selected for our upcoming hardcover book, Iconic Images of Detroit's Past: History Through the Lens of The Detroit News.
This pictorial history is a look into the early years of the Detroit area, from the 1800s to 1939. Within these pages you will see that nearly from Detroit's inception, it seemed to be exceptional. 
There are photos of bikes used both for leisure and official police business, when the city was the bicycle-making capital of the world. Of the birth of automated assembly lines as it became the Motor City. While the area did suffer greatly during the Depression, you will see a bright spot appear in the world of sports as Detroit earns the title of "City of Champions."
Within these pages a war begins and ends, people protest their causes and celebrate their victories, skyscrapers appear on the skyline. When Ford pushed back violently against United Auto Workers, a brave and clever photographer snapped shots that captured national attention, pushed reform forward, and led to the Pulitzer committee making a new category for photography. 
Here you will see celebrities, sports stars, political figures, and everyday people. More than anything though, you will see smiles; you will see family, community, you will see life. As a pictorial history, this book provides a snapshot (well, many snapshots) of life, a glimpse into the day to day experiences of those who lived while Detroit was starting to form and grow.
This limited-edition book is the perfect holiday gift for your loved ones. Click the link below to purchase!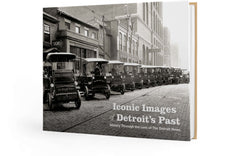 The Detroit News presents
Iconic Images of Detroit's Past: History Through the Lens of The Detroit News
$44.95