Cover Announced for Cheyenne Frontier Days 125th
The final cover has been selected for our upcoming hardcover book, Cheyenne Frontier Days: A Photographic Celebration of the 125th "Daddy of 'em All"
What later became known as the "Daddy of 'em All" was the right event at the right time. Anxious to sell rail tickets on day-long excursions, Union Pacific ticket agent Frederick Angier toured the Rocky Mountain Front Range and convinced town after town to hold festivals that would entice Denver citizens to venture out. Several communities were approached, and two festivals continue today, the Loveland Corn Roast Festival and Greeley's Potato Day.
When Angier approached the Cheyenne Board of Trade in 1897 however, they could not think of a crop worthy of a festival of its own. Wyoming is notorious for its difficult growing season, and agriculture had suffered serious setbacks through the years. As a disappointed Angier returned to the Cheyenne depot, his eye was caught by a crowd surrounding a group of cowboys attempting to wrestle an obstinate horse into a boxcar, and an idea started to form.
In its heyday, Cheyenne was the capital of the cattle barons. These powerful men, their ranches, and especially the cowboys that ran them had dominated the landscape and brought the city notoriety and fabulous wealth. The experiences of these people filled the imaginations of new generations eager for adventure and excitement.
The first Cheyenne Frontier Day committee put together the show in little more than a month's time. On September 23, 1897, special trains from Denver with 4,000 guests, and crowds filled the grandstands at the old Wyoming territorial fairgrounds at Pioneer Park. Shoshone and Arapaho came from the Wind River Reservation, and the US Army lent infantry and cavalry from Fort D.A. Russell. The crowd was treated to authentic cowboy sports, First Nations war dances, and professional Army maneuvers and sham battles.
Through the rest of the 20th century and into the 21st, Cheyenne Frontier Days has thrived. While other rodeos have grown to be larger, the mystique of the "Daddy of 'em All," America's greatest outdoor rodeo, has never diminished. CFD's traditional favorites – its air shows, breakfasts and parades, along with its nightly music and entertainment – are organized by a huge cadre of dedicated volunteers who carry on the spirit of the first Cheyenne Frontier Day Committee. Through them, the spirit of the Old West lives on and rubs elbows with our bright future. The "Daddy of 'em All" brings the world to Cheyenne, and both are the better for it. 
We are about to witness again the marvel of Cheyenne Frontier Days, and like our predecessors, we too have no idea what will happen when man meets beast. It is history in the making.
This limited-edition book is the perfect holiday gift for your loved ones. Click the link below to purchase!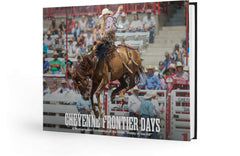 Wyoming Tribune Eagle presents
Cheyenne Frontier Days: A Photographic Celebration of the 125th "Daddy of 'em all"
$39.95