Cover Announced For Capital Region Memories II
The final cover has been selected for our upcoming hardcover book, Capital Region Memories II: The 1940s–1960s.
This pictorial history is a look into the Capital region from the bustling war years to the changing landscape of the 1960s, covering the counties of Albany, Saratoga, Rensselaer, and Schenectady. 
Within these pages you will see photos overlooking growing towns, streets filled with cars, people, and with community. You will see regular folks serving their community; They fought fires, fought disease or illegal activity, and of course a fair few fought in wars, stepping up to serve the country in a time of need. People gave their time, their money when they could, and whatever metal and rubber they could find.
There are photos of students learning and laughing, whether they be in a classroom, at a ball game, out for a soda pop, or simply sitting in their dorm room. New businesses, depot, post office, school, and bridges can be viewed; even the South Mall Tower (later Empire State Plaza) in progress. You will see political figures and events at the capitol, whether they be celebrations, protests, an Assembly Chamber in session, or a salute to a fallen president.
Most of all you will see community. You will see smiles, you will see family, you will see life; maybe you will even see a memory.
This limited-edition book is the perfect holiday gift for your loved ones. Click the link below to purchase!
CapitalRegion2.PictorialBook.com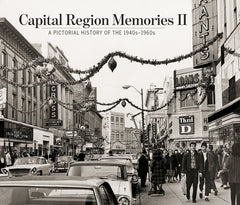 Times Union presents
Capital Region Memories II: A Pictorial History of the 1940s–1960s
$44.95