Cover Announced for 100 Years at Sebastian Inlet: A History of the Sebastian Inlet District
The cover image, courtesy of Sebastian Inlet District archives, shows the inlet circa 2007. At that time, after decades of unsuccessful attempts, the Sebastian Inlet District received the needed state and federal permits to create a 3,120-foot channel connecting the inlet to the Intracoastal Waterway. The local marine industry benefited from a channel that could now accommodate larger vessels, and in just four years, marine biologists documented a dramatic reduction in prop scars from boaters to the important seagrass beds on the flood shoal west of the inlet because there was now a marked channel.
This pictorial history gives readers a look at the struggles to create the inlet in the early 1900s, the efforts to enhance and expand the area in the 1960s and '70s, the focus in the 1990s and the new millennium on natural resources and preservation, and more.
This limited-edition book is the perfect holiday gift for your loved ones. Click the link below to purchase!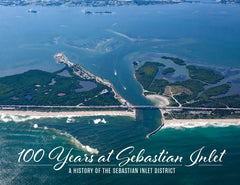 Sebastian Inlet District presents
100 Years at Sebastian Inlet: A History of the Sebastian Inlet District
$29.95