Cover announced:
Cleveland Memories III
The final cover has been selected for our upcoming hardcover book, Cleveland Memories III: A Pictorial History of the 1950s. 
The cover image, courtesy of Cleveland Public Library, depicts six thousand tons of bulk salt for use on Cleveland streets by the Cleveland Transit System being unloaded from the Detroit Edison on June 14, 1951. This marked the first time the CTS had received salt by boat.
This limited-edition book is the perfect holiday gift for your loved ones. Pre-order today to save big!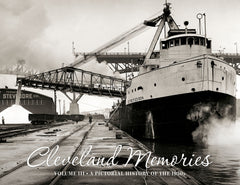 Advance Ohio / The Plain Dealer / Cleveland online presents
Cleveland Memories III: A Pictorial History of the 1950s
$35.95 $44.95