Cover Announced: Ashland County Memories
The final cover has been selected for our upcoming hardcover book, Ashland County Memories: A Pictorial History of the late 1800s through the 1930s.
The cover image, courtesy of Antiques on Main Ashland, depicts riders awaiting the interurban along the tracks on the edge of Ashland on a snowy 1911 day.
This limited-edition book is the perfect holiday gift for your loved ones. Click HERE to purchase early and save!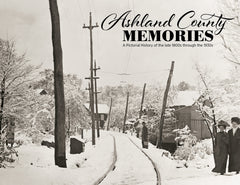 Times-Gazette presents
Ashland County Memories: A Photographic History of the Early Years
$44.95