Chico Memories Cover Announced
We are proud to announce the final cover for the upcoming Chico Memories pictorial history book, as seen below.
This hardcover book is the perfect holiday gift for your loved ones across the Chico area. Pre-order today to save big!
Depicted on the front cover is driver and owner of The Chico-Willows Stage, "Gasoline" Jack Houk, pictured with customers, circa 1920s (photo courtesy Randy Taylor Collection). What a fantastic cover for this unique hardcover book!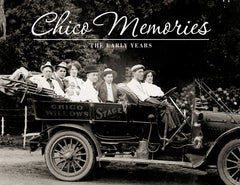 Enterprise-Record presents
Chico Memories: The Early Years
$44.95