"Bull Moose" Theodore Roosevelt campaigning in Missoula
Following the assassination of President William McKinley, Vice President Theodore Roosevelt found himself at the country's helm just six months into a four-year term. The charismatic and hugely popular Roosevelt finished out McKinley's term then won another four years for himself.
He could have run again, but opted to end his presidential run in 1909 to honor the spirit of the tradition established by George Washington of serving no more than two terms, even though Roosevelt was short-changed by a few months. Instead, he hand-picked the Republican nominee and set sail for Africa, where he embarked on a now-legendary safari and expedition. 
But Roosevelt was unsatisfied with the direction of his successor, President William Howard Taft, and began reestablishing himself in the political arena upon returning from Africa.
Unable to wrangle the Republican nomination back away from Taft ahead of the 1912 election, Roosevelt helped establish the Progressive Party (to be known as the "Bull Moose Party") and began campaigning against Taft as well as Democratic nominee Woodrow Wilson. 
While Roosevelt was still hugely popular, his entry divided Republican votes and allowed a clear path for Wilson, who went on to serve as president between 1913 and 1921.
These and other dramatic photographs can be found in the Missoulian's new book, "Missoula Memories."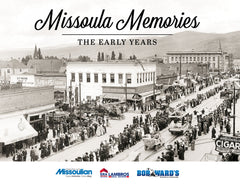 Missoulian presents
Missoula Memories: The Early Years
$44.95