A Pictorial History: Looking Back Cover Announced
We are proud to announce the final cover for the upcoming A Pictorial History: Looking Back, as seen below.
This hardcover book is the perfect holiday gift for your loved ones across Otsego, Delaware, Chenango and Schoharie Counties. Pre-order today to save big!
Depicted on the front cover is the Atlantic & Pacific grocery store in Oneonta, circa 1935. Owner Ellery Tripp is on the far left (photo courtesy Chris Vredenburg). What a fantastic cover for this unique hardcover book!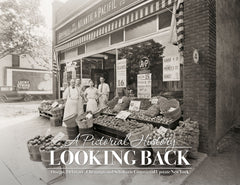 The Daily Star presents
A Pictorial History: Looking Back: Otsego, Delaware, Chenango and Schoharie Counties of Upstate New York
$44.95