A Look Back at the Sioux City Journal-Tribune
With the upcoming release of the Journal's new book, Sioux City Memories Volume II, it seems like great time to look back at some early memories from the Sioux City Journal and learn a bit about the process of making a newspaper at that time.
From 1941 to 1972 the Journal and Tribune combined to bring the community both the morning and evening papers, so these lucky paperboys got to deliver twice a day. The company changed hands in 1972 and became strictly a morning paper.
The workers below are using linotype machines to make lines of type for the paper. But how exactly does that work?
Simply put, the operator types the letters they want onto the keyboard. With each keystroke, letter molds are pulled down and placed side by side, forming a line. Once the line is complete, the operator pulls a lever that pushes the line over to the left side of the machine and casts it in hot lead. The cast is then trimmed and ejected, going from 500-degree molten lead to a hard-set line o' type in a matter of seconds.
A series of these lines are assembled to make up the text of the paper. From here a few different things can happen depending on the type of printing press used. In the case of the photo below, the man is employing a style called offset printing, where type is transferred from a zinc plate to a rubber roller, and then to the paper.
Learn more about Sioux City history and see hundreds of beautiful, historic photos in the Journal's new book, Sioux City Memories Volume II.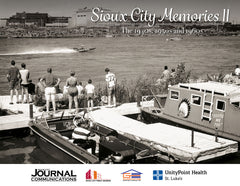 Sioux City Journal presents
Volume II: Sioux City Memories: The 1940s, 1950s, and 1960s
$15.05 $44.95