A look back at Solano Brewery and Vallejo's long tradition of brewing
150 years before Mare Island Brewing Company got its start and not long into the island's life as a bustling shipyard, there was another brewery best known to Vallelo, CA locals.
The Solano Brewery on Marin Street was established by German immigrants Charles Widenmann and Peter Rothenbusch and operated between the 1860s up until 1918, the lead up to national Prohibition. 
By the late 1800s, the Solano Brewery facility was able to produce 6,000 barrels a year and was well known for its Solano Steam Beer.
Other pre-Prohibition Vallejo breweries included the Pioneer Brewery and Philadelphia Brewery.
These and hundreds of other classic Vallejo images can be found in the Times-Herald's new book, Vallejo Memories!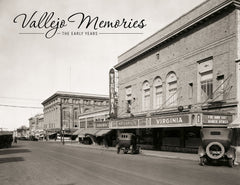 Times Herald presents
Vallejo Memories: The Early Years
$44.95