A Bridge to Oregon's History
Between 1919 and 1946, Conde B. McCullough helped to create some of the most iconic landmarks on the U.S. Route 101.
As the head of the Bridge Division of the Oregon Department of Transportation in 1919, McCullough oversaw the design of Oregon's bridges at a significant time in the completion of the Oregon Coast Highway.
Designing 13 of the 20 bridges that make up the Oregon Coast Highway, McCullough's spectacular aesthetic and utilitarian design can be seen all along the 363-mile stretch.
The Coos Bay Bridge was finished in 1936 and, at the time, was the longest bridge in Oregon at 5,305 feet. In 1947, the bridge was dedicated to McCullough and renamed the Conde B. McCullough Memorial Bridge.
Find more stunning and historic photos of Coos County in The World's new pictorial history book, Coos County Memories: The Early Years.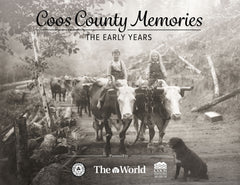 The World presents
Coos County Memories: The Early Years
$39.95 $44.95