Death Defying Stunts at Niagara Falls
Niagara Falls has seen a wide array of people attempt to go over or cross the falls in creative ways.
Between 1859 and 1896, a handful of people successfully crossed Niagara Falls on a tightrope. While crossing the gorge, at just over 1000 feet, seems like it would be an incredible feat in and of itself, many daredevils sought to raise the stakes on their journeys.
William Leonard Hunt carried a washing machine to the center of the rope and did laundry before finishing the trek. Other performers crossed the falls backwards, blindfolded or with their hands and feet manacled to add extra drama to the stunt.
After 1896, the Niagara Parks Commission stopped allowing people to cross the falls. The NPC did not issue another permit until 2012.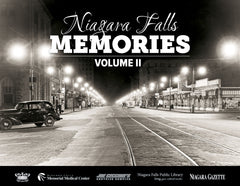 Niagara Gazette presents
Niagara Falls Memories: Volume II
$44.95