Floods, Fire and Ice Cover Announced
We are proud to announce the final cover for the upcoming Floods, Fire and Ice pictorial history book, as seen below.
This hardcover book is the perfect holiday gift for your loved ones across the Pioneer Valley area. Pre-order today to save big!
Depicted on the front cover is a train wreck that occurred as a result of flooding in Northampton in October 1869 (photo courtesy Forbes Library). What a fantastic cover for this unique hardcover book!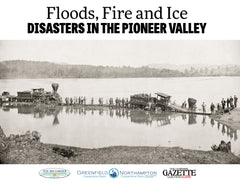 Daily Hampshire Gazette / The Recorder presents
Floods, Fire and Ice: Disasters in the Pioneer Valley
$39.95