Cedar Valley Memories Cover Announced
We are proud to announce the final cover for the upcoming Cedar Valley Memories pictorial history book, as seen below.
This hardcover book is the perfect holiday gift for your loved ones across the Cedar Valley, Waterloo and Cedar Falls area. Pre-order today to save big!
Depicted on the front cover are Dart Motor Manufacturing Company vehicles on the 5th Street bridge in Waterloo, circa 1914 (photo courtesy Grout Museum Archives). What a fantastic cover for this unique hardcover book!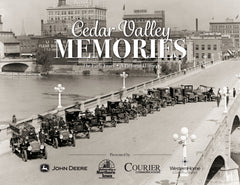 The Courier presents
Cedar Valley Memories: The Early Years
$44.95