Bismarck-Mandan Memories Cover Announced
We are proud to announce the final cover for the upcoming Bismarck-Mandan Memories pictorial history book, as seen below.
This hardcover book is the perfect holiday gift for your loved ones across the Bismarck-Mandan area. Pre-order today to save big!
Depicted on the front cover is a ferry crossing the Missouri River near Bismarck in the early 1900s (photo courtesy State Historical Society of North Dakota). What a fantastic cover for this unique hardcover book!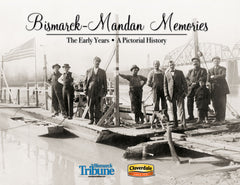 The Bismarck Tribune presents
Bismarck-Mandan Memories: The Early Years
$44.95