Anderson welcomes the First Lady of the Skies
Just a few months before making history by flying across the Atlantic Ocean alone, Amelia Earhart left her mark in Anderson, SC.
Earhart flew into the Anderson airport in her Pitcairn PCA-2 Autogiro on November 14, 1931 as a part of a nationwide tour promoting Beech-Nut Gum. Earhart toured the town, met with city leaders and gave a speech to the people of Anderson in which she said:
"I will do my best to come back to Anderson some time and when you are in New York come around to see me — I mean that too. The welcome here has pleased me more than in any other city on my tour," 
In 1999, the Anderson County Council and the Anderson County Museum Commission erected a historical marker commemorating this event. It is located on the grounds of the Anderson County Civic Center, where the Anderson Airport was originally located.
Don't miss this and other interesting historical images in the hardcover book, "Anderson Memories: The Early Years".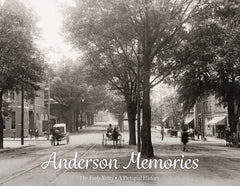 Independent Mail presents
Anderson Memories: The Early Years
$39.95