April 16, 1897: "Mystery Airship" lands in Waterloo
Just as automobiles were poised to change city streets in the 1890s, the development of aircraft promised the same for the sky. Ferdinand von Zeppelin was earning patents on his rigid airship while Clément Ader, the Wright Brothers and others were racing to build a functional fixed-wing airplane, culminating in the Wright Brothers' iconic powered, controlled flight in 1903.
As futuristic flying machines entered the public consciousness a media frenzy swept the nation moving west to east beginning in 1896. Accounts of UFOs, usually referred to as "Mystery Airships," began popping up in newspapers from coast to coast. These airships were purported to be flown by alien visitors, enemy spies, or eccentric inventors. In fact, Thomas Edison had to issue a public statement denying responsibility.
The hysteria reached Waterloo, Iowa on April 16, 1897 when the photo below began circulating.
This photo can be found among hundreds of other classic Waterloo and Cedar Valley moments in the upcoming book, "Cedar Valley Memories."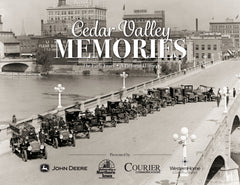 The Courier presents
Cedar Valley Memories: The Early Years
$44.95