Bix Beiderbecke: Davenport, Iowa's Favorite Son
Born to parents Bismark Herman and Agatha Jane (Hilton) Beiderbecke in Davenport, Iowa on March 10, 1903, Leon Bismark "Bix" Beiderbecke emerged from the Quad-Cities to become one of the most renowned and influential jazz musicians of the roaring 1920s.
Self-taught on the cornet, Bix began making a name for himself as a musician while attending Davenport High School between 1919 and 1921. Struggling to balance school and a budding professional career, Bix was moved by his parents to the prestigious Lake Forest Academy boarding school in 1921 in an attempt to straighten him out and recalibrate his academic focus. The plan backfired as Bix's new proximity to Chicago jazz clubs only fueled his passion for music and the lifestyle that came with it. Bix was caught sneaking out of his dorm and was expelled from Lake Forest in 1922. 
Free of Lake Forest, Bix committed to music and began distinguishing himself in the jazz and pop music worlds with ensembles such as the Wolverines, Frank Trumbauer and Paul Whiteman orchestras. 
Known for his pure tone, unique timbre, originality and knack for improvisation, Bix became a jazz star with top orchestras and as a leader of his own outfits. Unfortunately, the lifestyle and a struggle with alcoholism kept him in poor health an unable to enjoy a long career.
Bix passed away in 1931 at the age of 28.
These photos of Bix Beiderbecke as well as hundreds of other classics from Davenport, Moline, Bettendorf, Rock Island and surrounding areas can be found in the upcoming book "Quad-City Memories."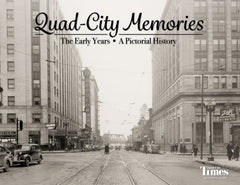 Quad-City Times presents
Quad-City Memories: The Early Years | A Pictorial History
$44.95