Vero Beach Memories: Becoming Dodgertown
"April 1, 1948, will be a day that will stick in my mind forever. That was the day I walked into the clubhouse at Vero Beach in Florida and the clubhouse boy handed me a Dodger uniform. It was the happiest day of my life." - Three-time MVP, Hall of Famer, and life-long Dodger Roy Campanella in his book It's Good to Be Alive.
In 1942, shortly after the United States' entry into World War II, the U.S. Navy notified the city of Vero Beach, Florida that its airport had been selected as the site of a new naval air station and training center. The Navy quickly developed over 1,500 acres surrounding the airport.
Following the end of the war the airport was returned to Vero, but the surrounding Navy and Marine facilities didn't sit vacant for long. Local businessman Bud Holman showed the space to the ambitious Branch Rickey, the president and general manager of the Brooklyn Dodgers baseball team, who envisioned a state-of-the-art training facility and a permanent Spring Training home for his ballclub.
Dodgertown was established in time for the 1948 season.
Richey was key in breaking the color barrier in Major League Baseball by bringing Jackie Robinson to the Dodgers, and in 1948 he made Dodgertown the first integrated Spring Training facility in the South. African-American players were able to live, dine and recreate with the rest of the players on base.
Every spring between 1948 and 2008 Dem Bums made Dodgertown and Vero Beach their home, bringing greats such as Duke Snider, Jackie Robinson, Don Drysdale, Sandy Koufax, Fernando Valenzuela, Clayton Kershaw and many, many others to Florida's Atlantic coast. 
After 60 years in Vero, the Dodgers left Dodgertown and the Grapefruit League and moved their Spring Training operations to Glendale, Arizona.  
Additional historical Dodgertown and other classic Vero Beach photographs can be found in the upcoming book, "Vero Beach Memories."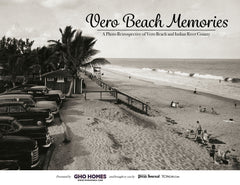 Indian River Press Journal presents
Vero Beach Memories: A Photo Retrospective of Vero Beach and Indian River County
$44.95