Remembering Muscatine's Weed Park Zoo
Even after closing its doors in 1980, Muscatine's Weed Park Zoo remains a fond memory in the hearts of many longtime Muscatine residents.
In 1907, the land that is now Weed Park was donated by Mr. and Mrs. James Weed to the City of Muscatine.
14 years later, The Weed Park Zoo opened it's doors with the donation of two honey bears and went on to become a favorite destination of Muscatine residents. It eventually housed Bengal tigers, African antelopes, peacocks, monkeys, deer, foxes, raccoons, reptiles, Sheba the lioness and, what many remember as the star of the zoo, Dolly the Elephant.
After decades of providing memories to the residents of the city, the Muscatine City Council closed the zoo permanently in 1980 due to concerns over animal welfare and costs. Some of the beloved zoo animals eventually found new homes, such as Dolly the Elephant who made a new home at the Denver Zoo.
However, the legacy of the Weed Park Zoo would live on. In 2008, Maryrose Peterschmidt, in search of a project to fulfill her service requirement to be an Iowa State University/ Muscatine County Master Gardener, set her sights on the former zoo area of Weed Park.
After raising funds and working with Muscatine City Council, the Parks and Recreation department, the Kellor and Kellor Landscaping company and Muscatine volunteers, the Weed Park Zoo Garden opened to the public on Sunday May 23rd, 2010.
The Zoo Garden spans about three acres, incorporates walkways and outlook posts, a shelter, a restored log cabin, stone benches, locally made animal sculptures and in the spring, thousands of flowers. The garden serves as a beautiful throwback to the childhood joys of visiting the Weed Park Zoo
Relive historical moments in rich in the hardcover book, "Muscatine 175: 175 Years of Muscatine History Through the Eyes of the Muscatine Journal."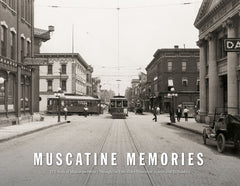 Muscatine Journal presents
Muscatine Memories: 175 Years of Muscatine History Through the Eyes of the Muscatine Journal
$44.95