Sports Feature: Babe Ruth stops in Madison
Babe Ruth, born George Herman Ruth Jr., retired as one of the greatest players in the history of baseball on June 2nd, 1935. His career included 22 seasons, seven World Series Championships and 714 home runs. In October of that same year, Babe Ruth made a stop in Madison while traveling and took time to sign autographs for fans. The following year Ruth was one of the first five players inducted into the sport's hall of fame.
Don't miss this and other interesting historical moments in the hardcover book, Madison in Focus.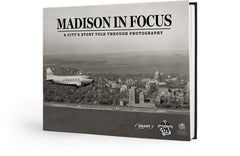 Wisconsin State Journal presents
Madison in Focus: A City's Story Told Through Photography
$44.95