The Statler Brothers' Legacy in Saunton.
The Statler Brothers, an American country music, gospel and vocal group, began their musical legacy in 1955 in Staunton, Virginia. The group, first known as The Four Star Quartet, made a name for themselves by performing gospel music at local Staunton churches. The quartet would later be known as The Kingsmen and began their music career as backup singers for Johnny Cash. In 1963 the group changed their name to The Statler Brothers, naming themselves after a brand of facial tissue they had noticed in a hotel room.
Despite the name, only two members of the group (Don and Harold Reid) are actual brothers. Don Reid sang lead; Harold Reid, Don's older brother, sang bass; Phil Balsley sang baritone; and Lew DeWitt sang tenor and was the guitarist of the Statlers before being replaced by Jimmy Fortune in 1983 due to DeWitt's ill health which lead to his passing on August 15, 1990. On October 26, 2002 they played their last concert at the 10,000-seat Salem Civic Center in Salem, VA, not far from Staunton, where they'd started and where they continued to maintain their headquarters. The Statler Brothers were elected into the Country Music Hall of Fame in 2008, a well-deserved ending for one of American music's greatest success stories.
Enjoy these and countless other historic Staunton moments in our upcoming book, "Treasured Memories Reflections of the Early Years in Staunton, Waynesboro and Augusta County"!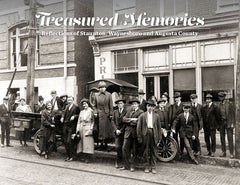 The News Leader presents
Treasured Memories: Reflections of Staunton, Waynesboro and Augusta County
$39.95 $44.95