February 1969: University of Wisconsin students band together for the African-American community
Only about 500 black students were enrolled at the University of Wisconsin-Madison in early 1969, but by mid-February thousands of classmates and supporters joined them in solidarity in a march on campus.
The students, prompted by the Black Student Alliance, were frustrated by actions taken -- or inaction -- by UW administration. In 1964 the Black Student Alliance brought 13 "non-negotiable" demands to the school including the creation of a Black Studies Department and the active recruitment of black faculty and 500 additional black students. By 1969 -- the heart of the United States' most turbulent period of unrest and the overlap of the Civil Rights and Black Power movements -- the students were tired of these demands being largely ignored.
Demonstrations began days earlier, but on February 12th 1,500 students marched to Bascom Hill, blocking traffic, surrounding buildings and attempting to shut the school down. This led to Governor Warren G. Knowles calling up 900 bayonet-wielding National Guardsmen to attempt to control the crowds.
The presence of weapon-toting Guardsmen prompted a flood of student reinforcements, with an estimated 7,000-12,000 supporters joining the rallies in the coming days.
The demonstrations were mostly peaceful, however tensions ran high and some fights broke out between protesters and opposing student groups such as the Young Americans for Freedom.
The demonstrations proved successful as they helped lead the University of Wisconsin to create the Department of Afro-American Studies. 
These and other dramatic photos can be found in the Wisconsin State Journal's new book, "Madison in Focus."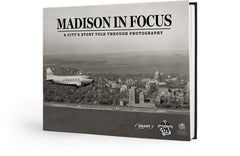 Wisconsin State Journal presents
Madison in Focus: A City's Story Told Through Photography
$44.95