The Great American Hill Climb
Billings is home to one of the Nation's largest motorsport hill climb events, The Great American Hill Climb. This event began in 1918 by the Billings Motorcycle Club and has continued to be a nationally recognized event in the motorsport industry.
Reaching its 100-year anniversary, this event consists of racers traveling uphill, against the clock, on an almost vertical terrain. It is one of the most technical hill climbing events in the world. 
Many racers have attempted to conquer the hill: some have succeeded, while others have fallen, bike and all. Just as entertaining as the riders, there are men who tackle the bikes and riders when they fall, hanging from ropes on the side of the track. Throughout recent years, this event has brought in about 10,000 spectators and has continued its legacy as a Great American pastime. This event's beginnings are featured in the book, Billings Memories.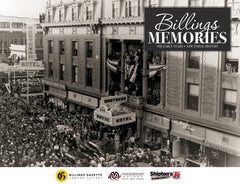 The Billings Gazette presents
Billings Memories: The Early Years
$29.95 $44.95