Niagara Gazette: Local history shared at Niagara Gazette scanning 'party'
By Michele DeLuca michele.deluca@niagara-gazette.com
A meeting room at the Niagara Falls Library was filled with people carrying beloved family photos Wednesday as Niagara Gazette readers offered their pictures for inclusion in a history book called "Niagara Falls Memories."
The event was a scanning 'party' where photos could be copied for a hard-cover picture book being created by the Gazette. It will include photos from 1860 to 1969 and will be published in time for Mother's Day.
Robert and Marilyn Krause of Niagara Falls brought photos of three generations of her family.
One photo showed her grandfather at the wheel of his convertible touring car, circa 1940s. Several family members were with him, all dressed up for the photo. Her grandfather looked dapper in his fedora, holding a cigar, while her handsome, young father, rode in the passenger seat. Little Marilyn was in the back seat, next to her grandmother, snuggled under the loving arm of her mother.
It was among several others she brought to be considered for scanning. "They didn't take a lot of pictures back then, so I brought what I had," she said.
Continue reading at niagara-gazette.com >>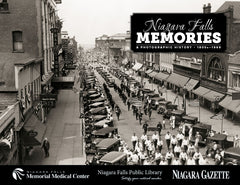 Niagara Gazette presents
Niagara Falls Memories: A Photographic History - 1800s-1969
$29.95 $44.95