Oregon Ducks: Record-Setting Rose Bowl Champions
The Oregon Ducks are Rose Bowl champs! An excerpt from The Oregonian/OregonLive:
"No one in the 101-year history of the storied bowl game had ever scored as many points or racked up as many yards (639) as the Ducks did en route to their second Rose Bowl win in four years and school record for victories." Read more...
Congrats, Ducks!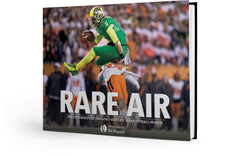 The Oregonian and OregonLive presents
Rare Air: The University of Oregon's Historic 2014 Football Season
$34.95