Scanning for Talladega County Memories
We had a great turnout at one of our public-scanning sessions for Talladega County Memories this morning at the Munford Public Library. That's us at right, Brad and Tim, ready to scan photos as folks bring them in.
Also pictured, from left: Tre Huddleston is the enthusiastic young man on the lap of his grandmother, Connie Parnell-Beverly. Behind them are Gina Haynes, Ted and Phyllis Haynes and Jenny Trickett, Head Librarian at the Munford Public Library.
We hope you can make it to one of our two remaining scanning sessions. We'd love to meet you and scan in your historic Talladega County photos! Here are the details:
Friday, July 18, 9:00 a.m. - 12:00 p.m.
The Daily Home
6 Sylacauga Highway
Talladega, AL 35160
Saturday, July 19 - 10:00 a.m. - 12:00 p.m.
Earle A. Rainwater Memorial Library
124 9th Ave SW
Childersburg, AL 35044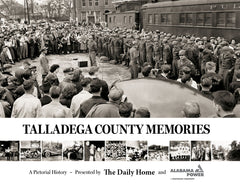 Daily Home presents
Talladega County Memories
$35.95 $44.95