Last Call for Capture Wisconsin II Submissions
Can you believe it? There are only a couple weeks left to shape the Capture Wisconsin II book with your photos and votes! If you're not aware, Capture Wisconsin II is a book project featuring the talents of the photographers of Capture Wisconsin.
To get a feel for the kind of quality photos you can expect to find in this fine-art book, check out the Your Best Shot photo contest. For this photo contest, photographers have been asked to submit only one photo, so the best of the best are on display. Winners will be published in the Capture Wisconsin II book!
If you haven't had a chance to order the Capture Wisconsin II book, we encourage you to do so now while it's on sale. It's on sale for $19.95 and will make the perfect book for your coffee table or a great gift this holiday season. Scoop up a few copies for any Wisconsin fans you know.
Also, if you have photos of Wisconsin and want a shot at getting published in the book, join Capture Wisconsin now and submit your photos. It's free, fun, and all with the aim of finding the best Wisconsin photos ever!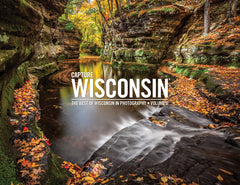 Pediment Publishing presents
Capture Wisconsin II: Wisconsin Through the Eyes of Wisconsin Photographers
$27.95